This is my first foray into the creative world of the Silhouette Challenge.   This month's theme was fabric and you'll find links to 43 inspirational projects below mine.   Go visit them all!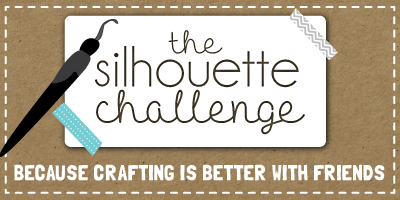 It's always a bit scary photographing a sewing project and seeing all the imperfections close up, but although this is no work of breathtaking skill it was made with love.  This was for my granddaughter's first birthday. At Christmas I made her a card with her favourite dog and a photo of her underneath the flap.  Peep-po is such a cool game for a nearly one year old!   For her birthday I wanted to try a similar theme but something a little more robust so I came up with this tiny play quilt.
I cut the letters with the Silhouette Cameo using plain old iron-on interface to back the fabric with varying degrees of success, but after several attempts managed to get what I needed.  The cartoon dog image was printed and cut from iron-on t shirt transfer paper.  I then used the same outline (flipped) to cut the shape out of iron-on interfacing.  I lined up the printed image and the interfacing face and ironed them both onto the dark brown faux suede, so the image was transferred straight to the interfacing.  I know this is not the conventional way to transfer (I didn't have any white fabric that was suitable to hand!) but I gave this a try and it seems to work.
For the square in the centre, underneath the padded dog,  I used the same technique to add a photo of the birthday girl.
I sewed the squares together, added batting and backing, quilted using stitch-in-the-ditch and bound the edges.  I attached the centre pull-up square with velcro so it would pull off easily rather than rip!
Want to Check Out More Silhouette Projects?
My Silhouette Challenge buddies and I are all sharing projects on our blogs today, so peruse the projects below for a wealth of Silhouette inspiration!